Courier TV News interviews Terry Vitacco about the 16th Annual Easter Seals Exhibition.
(Watch the video)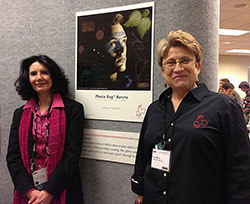 Terry Vitacco with Carol Boss of Hahnemuhle Fine Art Papers at the Society for Photographic Education Conference.
ABOUT TERRY VITACCO
Terry Vitacco is a Photographer, Professor and the Coordinator of the College of DuPage Photography Program. She teaches introductory, intermediate and advanced photography courses at the college. At every level, she stresses "real world" photography by developing students' creative vision and technical skills and getting them out into the community to utilize what they learn in class. She encourages them to consider themselves visual artists that need to get in touch with their entrepreneurial sides so they can have viable and dynamic careers.
Before teaching full-time at College of DuPage, she began her career as a photojournalist. She went on to run a commercial photography business; photographing people on location for editorial, corporate and advertising clients. She has exhibited her work in one-woman and group exhibitions, is a member of the American Society of Media Photographers (ASMP) and the Society for Photographic Education (SPE).
Two notable programs she has launched that give students real world photography experience are the Easter Seals Annual Exhibition, which is now in its 17th year, www.cod.edu/photo/photojournalism/index.htm and the Exposed Photography Showcase, which is open to college and High School students www.cod.edu/photo/exposed/index.htm. She also highlights COD student and Photo alumni accomplishments in the Photography Program blog, Silicon and Silver. codphoto.wordpress.com/2015/11/23/equine-photographer-cod-photo-alum-rachel-asmus-shares-breeders-cup-experience-this-fall/